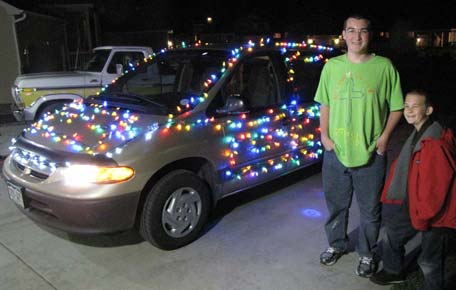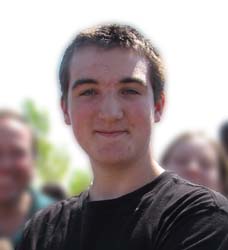 Hi! I'm BJ Kellam and this is my Christmas Car! This is the second year that I have decorated our van for Christmas and it has been quite a hit! I have always been excited about lights and electrical things.
When I was about 10 years old, my dad let me get up on the house and hang Christmas lights with him. Then, after Christmas my mom bought me one of those lights show boxes that plays music and makes a Christmas light show. Last year, when I was 14, dad was recovering from a leg injury and was unable to get on the house, so I decorated our house myself.
After decorating the house, I was using a power inverter to plug a portable mini DVD player in to our van when I thought, "I bet this power inverter would be able to power Christmas lights on the van!" My dad told me that the newer LED lights used a lot less power than the old style Christmas lights and when I did the math, I realized I could put as many as 30 strings of lights on the car!
Last year, I decorated the van for the first time and it was popular. This year, I doubled the number of lights on the van and it has been really popular! People just stare at us everywhere we go! We constantly have people waving, giving us "thumbs up", taking pictures and asking how we do it, so I decided to put up this web site to answer your questions!
Here's a video we made about how I set up the car! Please watch it and then let me know what you think! We have included an FAQ with some of our most frequently asked questions, but I'd be happy to answer any questions you have! If you have seen the van somewhere, please visit the Report a Sighting page and leave a comment!